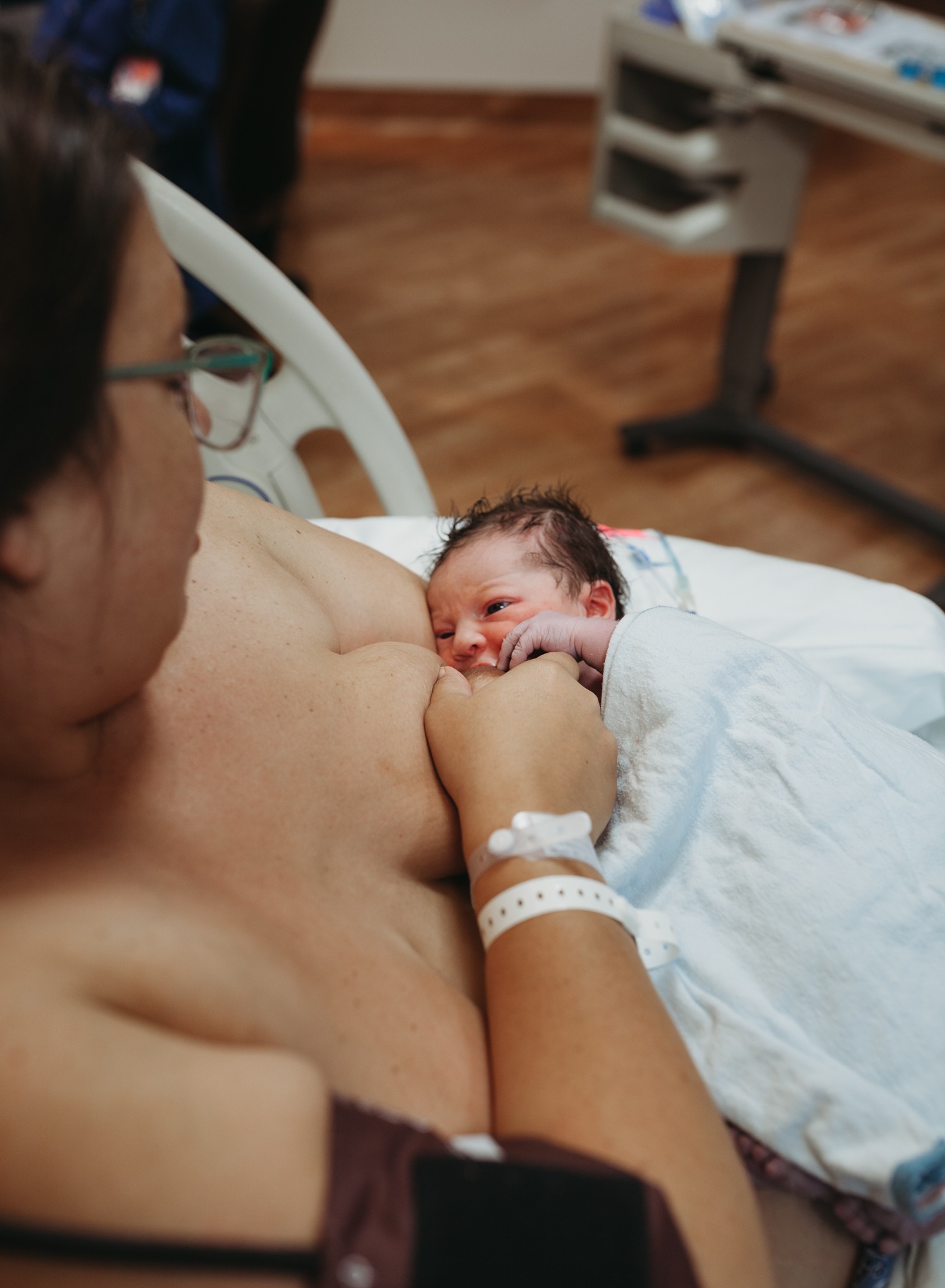 [vc_row][vc_column column_width_percent="80″ gutter_size="3″ back_color="color-xsdn" overlay_alpha="50″ shift_x="0″ shift_y="0″ shift_y_down="0″ z_index="0″ medium_width="0″ mobile_width="0″ shadow="std" shadow_darker="yes"][vc_row_inner][vc_column_inner column_width_percent="100″ align_horizontal="align_center" gutter_size="3″ overlay_alpha="50″ shift_x="0″ shift_y="0″ shift_y_down="0″ z_index="0″ medium_width="0″ mobile_width="0″ width="1/1″][vc_custom_heading text_weight="100″ text_space="fontspace-210350″ separator="yes" separator_color="yes"]That First Breastfeed[/vc_custom_heading][vc_custom_heading]
My experience with breastfeeding my first baby after a hard birth 
[/vc_custom_heading][/vc_column_inner][/vc_row_inner][vc_column_text]When my daughter was born, she was very sick. We did not know this until she was born, and therefore were not prepared. It was about a weeks time until I was able to her hold her. This was, obviously, a very difficult time for both me and my husband. We found ourselves flung into the hardest parts of parenthood right from the get go. Instead of the flood of oxytocin and skin to skin, we were trying to make sense of the options the doctor was telling us about. 
I should take a break here to say that my daughter made a swift and full recovery. She is now a very vibrant and healthy five year old. 
On day six of her life, the nurse told me that I was able to hold her. I had spent a week sitting by her bedside, listening to the continuous and reassuring beeps of the machines around us. I felt nervous and unsure. I wanted to be so delicate with her. 
When the nurse handed my baby to me, I immediately offered her my breast to feed. And like the miracle that life is, she latched perfectly. I was in awe. I said aloud to my husband, "this is the best feeling in the whole world". I knew that some mother-baby pairs have difficulty latching and breastfeeding right away. I was so incredibly grateful that after a traumatic start, we had caught a break; that the universe and nature had given us this gift of an easy breastfeeding experience. 
Without the flood of immediate, skin to skin, oxytocin flood post birth, my daughter and I had a different bonding experience. Breastfeeding played a huge roll in bonding for us. It quickly became this tangible connection between us. Of course built into breastfeeding itself is skin to skin, eye contact and touch. However, it was also a means of which I could provide for her a nurturing experience after the rough start. It was a beautiful framework in which we could get to know each other and grow our connection. 
I know that breastfeeding is not an easy experience for all. And each mother and baby pair finds their own rhythm for bonding. For us however, this was the path to healing from a very hard beginning. Breastfeeding was a source of physical, emotional, and spiritual togetherness; an experience that would help us move forward in health together. 
So it is no surprise that as a professional photographer, breastfeeding photos are some of my favorites to do. I know that I am photographing more than just a mother-baby pair. I know that I am capturing something special. A relationship, a connection, an expression of love. [/vc_column_text][vc_single_image media="169″ media_width_percent="70″ alignment="center"][vc_column_text]
April is a birth photographer and certified birth doula in the Pasadena/Glendale/Los Angeles area. Interested in  birth services? Let's connect!
[/vc_column_text][vc_button button_color="color-114749″ wide="yes" border_width="0″ display="inline" link="url:https%3A%2F%2Fapriltrettel.com%2Fservices%2F|title:Services|target:%20_blank|"]Contact April [/vc_button][/vc_column][/vc_row]
---